Cherished Memories That Last A Lifetime!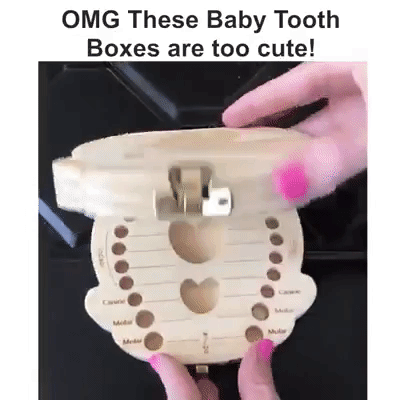 Our ADORABLE Baby Wooden Tooth Box is HANDMADE and allow you to keep your child's milk teeth when they drop.
It keeps them ORGANIZED for permanent preservation.
It features a tooth chart to keep track of your child's changing smile and/or to write special notes and dates. 
How to prepare baby teeth for a keepsake:
Softly 

CLEAN

the tooth
with
soap and water
and if you want to save the tooth as a memento you'll need to brush rubbing alcohol over the tooth surfaces with a cotton swab to disinfect it.
DRY the tooth with a clean towel.
Teeth do not deteriorate significantly over time, but cleaning them will prevent any bacteria from growing on the tooth.
Place the clean, dry tooth in your baby tooth box for STORAGE.
Corrosion-resistant and durable, SUITABLE for long-term dental storage.

The GREATEST gift you can give to new parents

PERFECT for pediatric dentist offices
Oh and guess what?
SAVE 50% TODAY ONLY. 
LIMITED STOCK - Only 50 Units Available

May take 1-4 weeks to arrive due to high demand.
CLICK 'BUY IT NOW' ABOVE TO GET YOURS
Package Include:
1 x Tooth Box
Do You Have a Guarantee?
We have a 30-day money back guarantee. If for any reason you are not 100% satisfied with our products, you may return the item for a full refund. We'd like to let you know that our refund rate is less than 3% due to so many happy customers. Simply email our 24/7 customer service on: support@Inspireden.com
How Long Will It Take To Arrive?
All orders are sent fully tracked from our nearest warehouse based on your location. Once your order is shipped you will receive an email with your tracking link. 
These are estimated averages based on current shipping times* 
United Kingdom, Europe: 7 - 17 business days
USA, Canada: 7 - 18 business days 
Australia, New Zealand: 7 - 17 business days 

South & Central America: 12 - 20 business days 
Orders are processed within 2-3 days then shipped
How Much Is Shipping ?
This product currently has FREE worldwide shipping for a limited time